Another eclectic week of non related thought provocation…
(After nearly a month at this, I am realising that the book could be hard to pull together.  Easiest as a diary of dailies – but feel I may have to coalesce the themes.  Looking like politics, Orgnisational life, Sport as metaphor, Daily Grind, The NHS in the UK – and public / private healthcare and how we afford it worldwide (long chapter!), and quotes to make you think)
So, back to Week 4: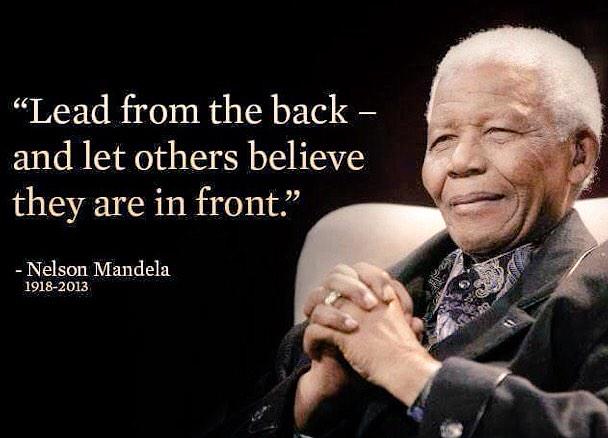 Quotes – one I re-tweeted: Nelson Mandela. above. Doesn't that sum up how to get people on side??  And then another lesson in the effect Twitter (and other social media) has on making 6 degrees of separation (as was) much less.  Some commentators reckon it is now 4 or less.  You are only 4 contacts away from being able to contact The Queen or President Obama.  Sounds impossible, until news this morning that someone had managed to speak to our Prime Minister and head of GCHQ just by asking to be put through via the switchboard!  I fellow Nigella Lawson on twitter, and she does have some lovely recipes and ideas.  But someone asked her about what to do if it all goes belly up in the kitchen.  She offered two quotes which had wider significance than just the heat of the kitchen:
"Don't be scared to learn to fail really well"  (A Buddhist saying that Ms Lawson had said she had just learnt after 47 years (assume that is her age?)
"Ever tried. Ever failed. No matter. Try Again. Fail again. Fail better."  (Samuel Beckett).
So food and life can give you quotes for working and the daily grind?  Thank you, Nigella!
My own quote this week was from a client, paraphrasing me: ""You can't change the past, only shape the future" good reminder not to wallow, but to plan positively. Learn from what you have done in the past, use it to plan, and act on it.  Be more Tigger than Eeyore?
We are having some work done at home, and had seen some magnificent and clever black out blinds from Luxaflex – via an old family firm, Gilroys in Gerrards Cross.  The owner and person who came and measured asked us why we wanted such expensive kit.  We told him we may be moving in the year, so he specified some much cheaper options, which we listened to, then decided on an in-between solution.  An honest salesman always gets repeat business, was my learning from that encounter.
Personally?  Loved the magic of the FA Cupsets again. Just great to see the 'minnows' – lower league sides – holding or beating their effete Premier league counterparts.  SO exciting – especially on radio.  No idea why – it just sounds so full on when flitting between matches in the last 10 minutes of the games on radio 5 Live – BBC at it's best.
We are having work done as i said – always a good time to have a cull of  all teh crap you tend to accumulate (or is it just me?)  Three trips to the dump – half of the stuff to the clever re-use centre, whose rofit goes to a local hospice. And trips to three charity shops – more on that next week.  And did another 5 km run – no ill effects apart from stiff this morning – up hill running is just such a killer…
Aiming to run in Marlow 5 miler in May…missed last year injured. I am excited! (Must get out more).