Lord Victor Adebowale, Health Chat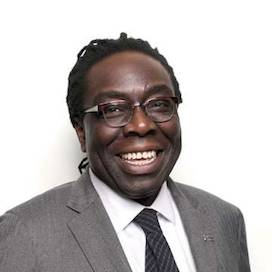 "I'm just a lad from Wakefield…I didn't expect to be in The House of Lords". Roy Lilley as ever, dug deeply into Baron Adebowale's life history. As ever, you can discover a lot about the drives and aims of anyone by looking at their journey to being in that chair at a health chat. Victor Adebowale fitted the precedent well!  If you want to view the whole chat, click here for a free recording.  You'll get your own insight there. As ever, this is my take on the event, so will be biased, of course.
He is a pretty imposing character.  Forthright, bright and imposing. Still seemed a little nervous at the start, but that settled pretty darn quickly.  The cross bench membership in the Lords sounded a bit mad.  It was a job application.  Sometimes called "people's peers". Although that is a lazy journalistic shorthand, it sort of describes what the job is. Victor told us he had to have a proper and quite scary interview, then forgot about it until he was summonsed to the House about 6 months later. Weirdly wonderful, I thought.
Family from Nigeria. Mum trains there as a nurse, under UK training auspices. Dad was a doctor. The incipient racism of the time meant mum had to redo all the training when they moved to the UK in the early 1950s (pre Windrush), and dad couldn't really get to be a doctor here.  I suppose that did help to force Victor down that path of wanting to make sure we have a more equal society. There is still the problem of privilege – really smart poor kids being overtaken by less bright rich and connected kids, just because of the school on the c.v., and the network. Most poor kids stay poor, and as parents then have poor kids.  I personally was very lucky in mid seventies to be the first in my family to go up to Uni. Victor described being lucky too, reading applied biology at NE London Poly (now Greenwich Uni). He just said he was a bad student! He left, but was still driven by that model of a highly stratified society, where it is hard to jump from one station to another.  The inbuilt inequality builds walls.  I get the feeling that Lord Adebowale is very driven by wanting to knock down those walls.  Check out the recording to see if you get that feeling too…. CLICK HERE.
During the Thatcher years, he moved into a Housing co-op, in Newham London. Inequality here was a long waiting list for housing and lots of empty property. The fight continues, as social housing is still seen as a blight and the Housing Acts are not making things easy.  As he said, the legal and planning experts reside in the private sector, so can reduce their commitment to social housing in new build areas with that clout.  We're about 20 minutes in, and Vic casually asks Roy after this exchange "we are going to talk about health?".  Yes, I thought, you will, but it is so useful to find,out what makes you tick through the simple (in essence) mechanism of getting your back story.
So we moved onto his dreadlocks.  Great responses here…I did think he might get annoyed,mouth he didn't . "Look. It's just hair. No, I'm not rasta.  It is just the most efficient hair style.  Anyway, as a 6 foot 4 black guy – you can wear what you want, including your hair!" Humour is always useful! "Be yourself, because everyone else is occupied". No, he didn't really get reggae always, and preferred Iron Maiden and Mahler….
Chief Exec of Turning Point now. As well as a peer of the realm.  There was a lot of discussion about charity versus volunteering versus Social Enterprise (which is how Turning Point is set up). So, there is an asset lock and no dividends can be distributed. But it is definitely a limited company style set up. Turnover of £120 million. He prefers his staff to be paid.  It sounds not for the faint-hearted, working with those with mental health substance and alcohol abuse.  But they compete in an open market for their contracts.  He firmly is of the opinion that being a social enterprise gives them more freedom. They are a business, and proudly so.  Roy did have a bit of a push at salary levels, especially Victors itself. When he was on Desert Islands discs,the same line of questioning had happened. "I could do your job", he said to Kirsty, "and your salary is more than mine – but I bet you couldn't do mine…". The lazy vernacular of asking hey someone gets paid more than the prime ministers salary don't get it.  The PMs package is estimated at £5 or 6 million a year. The main house and country residence aren't bad perks…but personally, I'd not really like either job!
Best line? "I get paid 14 times my lowest paid staff member. And that will always be the case." I think it may be time to get that into our legislature somehow.  Otherwise, how are we ever going to have a fair and open society? Just saying….
He wants to be able to employ the best talent and best minds.  The best brains in the world may cost £1 m a year – but the investment may really pay off?
He was on the board at NHS England when the junior doctors strike was raging. He feels that they could all earn more elsewhere, but they are driven by vocation.  They love the values of the NHS, because they align with their own. You do get what you pay for. We shouldn't exploit them – we should be thanking them every day.
Interestingly, he had joined NHSE as it was set up as part of the Lansley reforms – even though he had told the interview panel that he was very against the reforms. He still got the job. Good for them!
The thorny topic of Workforce Planning was dug over. He was quite happy for Dido Harding to be doing "yet another" (Roy quote) report. "Don't,kick it until you see it", was the Barons response. I'm like Roy, as I tend to prefer taking action not talking action.  But we shall see.
It will remain our very own elephant in the room at the NHS. Victor and others will be pushing the same way most of the audience feel is right. Making it such a fab place to be and to work that you not only want to stay, you want to rejoin if you have left.
Great session all – thanks.