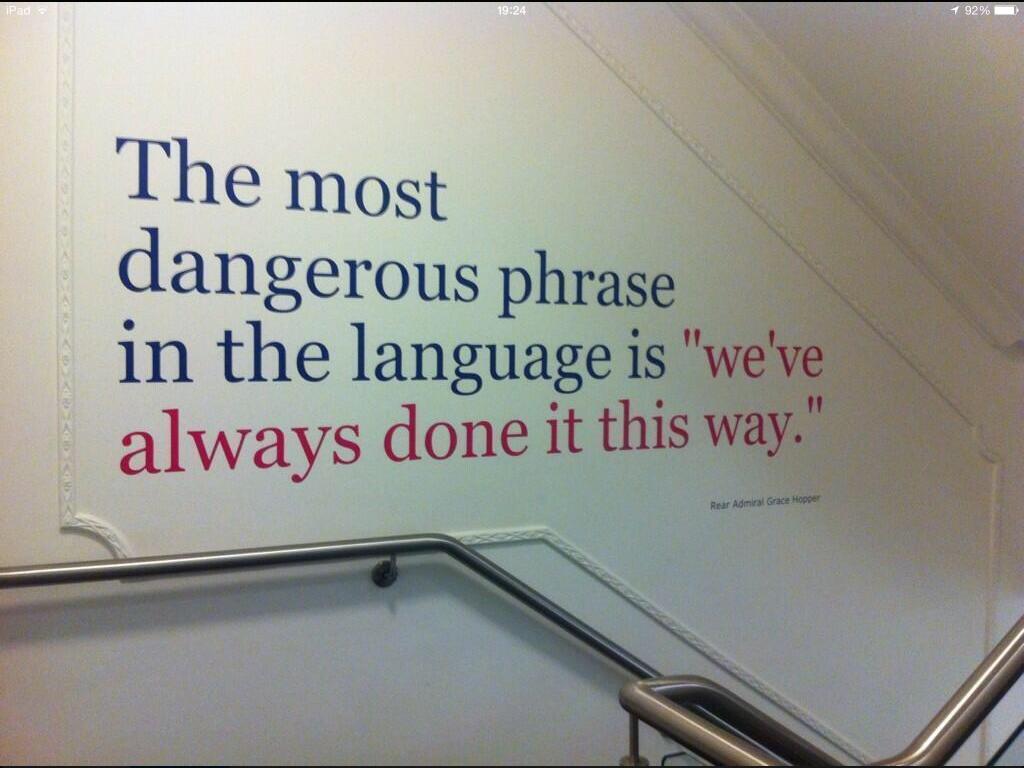 My favourite tweet of that week.  And there was plenty more metaphor gold to take for my own learning…
I did something quite exciting – was a best man at my mate's wedding.  Sussex County Cricket ground, and he was there with his wife, 12 year old son and immediate family and friends.  It was tremendous fun. Most moving moment was a one minute silence for the Hillsborough victims – sadly, still being investigated after all these years.  A conclusion soon, I feel – but a lovely touch on a day of celebration, to remember the people who weren't there as well as the football fans (It was the anniversary and the obvious link was the sports stadium.  I was very moved and deeply touched – and everyone found it similar to me).  Thanks Rob and Deb (and young Luke for remembering the date of the anniversary…)
But my biggest personal learning was in the dentists chair, having some major crowning work.  Suddenly, from all going swimmingly, he asked for a burr drill.  The item was found but in a sorry state.  "That is unacceptable"  he said, quietly angry.  Steve knows what I do (I have done some work in the surgery) so continued after a reassuring pat on my shoulder and a very quiet 'sorry'.  I nodded for him to continue, and he did.  I said in the tweet – 'metaphor gold'.  Just see the possibilities:
You need to trust everyone in the team to make sure you get the right results
If it goes wrong, (and things always do) then it is easier to fess up and sort it.  It's no use hiding things.
If there is a nettle – grasp it, or they just keep growing
Make sure strangers are informed if things are going wrong, so they know what you are trying to do – keep everyone in the loop
Letting your emotions out when you are normally happy go lucky, can have a very powerful and almost mesmerizing effect
The tools can be wrong – but the people are the ones who can fix things
Staying calm and asking for what you want in the future is the easiest way to get things changed.
It was worth the £340 (lab fees) for those golden nuggets!
I had another one of those "I love my work" moments, in a follow up to a recent workshop.  It is just so gratifying seeing people grow with a little bit of a push from me.  Just so warming!
And a final quote:
"I have discovered the key to happiness.  Stay away from idiots"
I enjoyed that too…